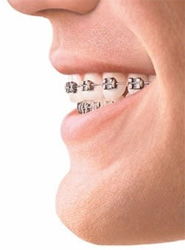 Braces
Our dentists are the masters of great braces. No matter what your situation, we can straighten your teeth and give your a great smile using braces. We are also the experts at when to use Invisalign Invisible Braces. If you are interested in completely invisible braces we can help you with that too. Click here for more information about invisible braces.
How Are Braces Done?
Braces are bonded brackets, arch wires and elastic bands that move crowded or spaced teeth into the proper position for appearance and function.
Over a period of time, teeth will shift when constant, gentle pressure is applied. Brackets are bonded to the front surface of each tooth and wires are attached to the brackets with elastic bands. The slight tension on the wire is gently transferred to the bracket through the elastic band.
Today's orthodontic treatments are faster, comfortable and more fashionable for children, teens and adults.
Types of Malocclusions Handle By Dental Braces
Class 1 – A malocclusion where the bite is okay and the top teeth line up with the bottom teeth, but the teeth are crooked, crowded or turned.
Class 2 – A malocclusion where the upper teeth stick out past the lower teeth commonly referred to as an overbite, over jet, deep bite or buck teeth.
Class 3 – A malocclusion where the lower teeth stick out past the upper teeth commonly referred to as an under bite.